BIOGRAPHY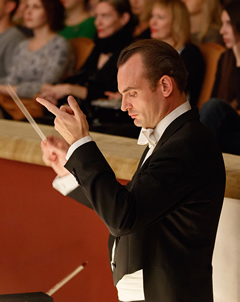 During his activities as a steady reserve of the Royal Concertgebouw Orchestra Ivo Meinen already conducted symphonic as well as opera repertoire. Season 2017/2018 he has been kapellmeister in the opera house of Yekaterinburg, the 3rd opera house of Russia.
In 2011 Ivo Meinen conducted the succesful production of the Dutch première of "La Pietra del Paragone" (G. Rossini) at Opera Trionfo and toured throughout the Netherlands. From that moment on the emphasis of his conducting activities lies on opera. He worked on operas such as "Don Pasquale" (G. Donizetti) and "Guillaume Tell" (G. Rossini). He also jumped in for extra performances of "Le Nozze di Figaro" (W.A. Mozart) in a production of the Dutch National Academy (Amsterdam) and a staged performance of "St. John Passion" (J.S. Bach) at the Dutch Reisopera Enschede.
In 2014 he conducted the Dutch premiere in Amsterdam of the opera "Vom Fischer und seiner Frau" of the Swiss composer Othmar Schoeck. He also conducted operas such as "Gianni Schicchi", "Tosca" and "Madama Butterfly" (G. Puccini), "Rigoletto" and "La Traviata" (G. Verdi), "Il barbiere di Siviglia" and "Le Comte Ory" (G.Rossini) and "Carmen" (G. Bizet).
In 2007 Ivo Meinen was selected by the Netherlands Philharmonic Orchestra to take part in a masterclass given by Valery Gergiev during the Gergiev Festival in Rotterdam. This masterclass is documented on the DVD "Conducting doesn't tire me": a portrait of Valery Gergiev. In the same year Ivo Meinen received the prestigious Kersjes Prize for conducting and in september 2015 Ivo was prizewinner at "the Blue Danube Opera Conducting Competition", Rousse (Bulgaria).
"Ich erlebte Ivo Meinen als hervorragender Operndirigent. Unter seiner kunstvollen Leitung ergänzen sich Gesangsführung und Musikstruktur perfekt. Ivo Meinen ist ein phantasievoller, von profundem Wissen geleiteter Künstler. Seine feinfühlige Musikalität stellt er durch ein energievolles und geschmeidiges Dirigat unter Beweis. Seine psychologische Feinfühligkeit macht ihn zu einem wertvollen, zuverlässigen Dirigenten."
Louis Landuyt, bariton